One of the most sought after items on buyers' wish lists is outdoor living space – an extension to the convenience of living indoors, outside when the weather is good.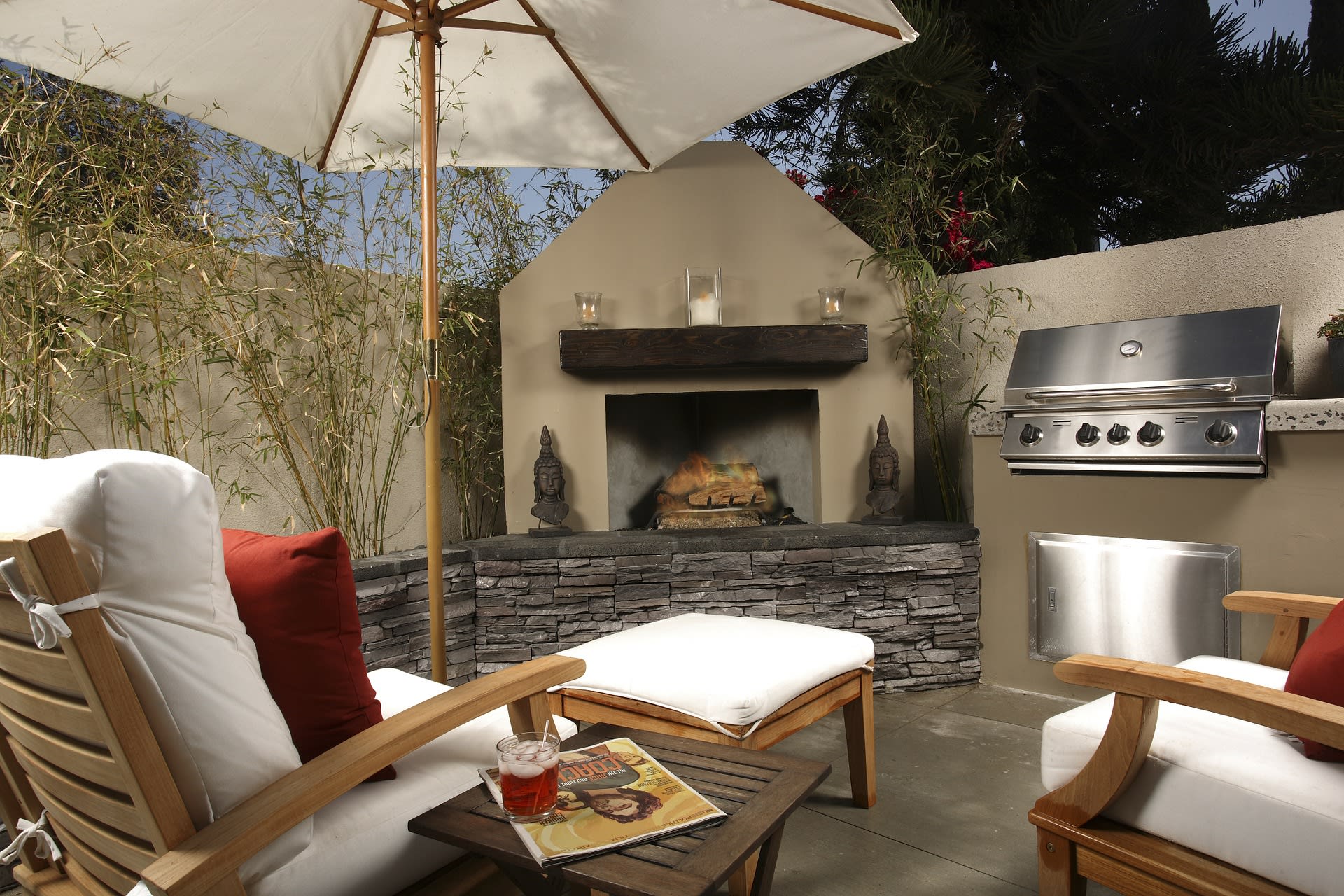 Wishful thinking? We get it – not everyone has the means to have this kind of outdoor space as shown above, but there are many things you can do to create that outdoor living space to inspire buyers – or make a space for your own enjoyment.

With the long winters here in Ottawa, come spring, we just want to be outside, enjoying the fresh air, the warmth and friends and family. Creating that outdoor space and natural extension to the indoor space is easier than you think.
Consider the Space Available
Look at the area in your back yard that is available and determine how much of it should be dedicated to your relaxation zone (sitting/entertaining area), how much should be floral/garden space and how much grass – play area for the children, pets, etc. Or, if it is a balcony or rooftop terrace, be sure to consider the flow of traffic (people), the view and convenience – these are important in a full backyard as well.  You don't want your guests manoeuvring through obstacles to get to a seat.  Determine a focal point and set it up as if it were a room in the house.

Add an outdoor carpet, a table or two, cushions, umbrella or shaded area (not everyone loves the sun), maybe a tabletop fire area (there are so many on the market today utilizing propane – push a button and lit – the safer way to go). 

Just in case you want something a little different, watch the video below from HGTV on creating a tabletop fire pit. (Always, know the local bylaws for outdoor fires)
Don't Forget the Greenery
Even outside, you will want some greenery, a small plant on the table, planter pots on the patio – get creative. Planted pots will add a touch a colour and reinforce the fresh and natural space you are looking for – particularly if you are on a patio or urban space with little or no grass or scenery to look at.  Keep in mind, these pots should be easy keepers – creating an outdoor space for relaxation and entertaining is not meant to have you gardening constantly to maintain the look.
Consider the Lighting
Keeping the lighting simple, especially if selling – buyers will look at extensive lighting as high maintenance (what do I do if it breaks, or the bulbs burn out?) While a fancy lighting system might be what you want, the seller might not agree. A few strategically placed lanterns may be all you need. Personally, I love candles for a serene setting, but they are not always practical when windy.
Functionality and Flow
Always ensure a smooth path from the house to the outdoor space as well as from the backyard entrance to the outdoor space. A leading pathway from the gate is always nice. Ensure there are no obstacles preventing the functionality for providing cocktails, barbecuing, or for children running in and out, or through the space while playing.
Privacy
Again, consider the buyer's perspective on privacy. While you may have a great relationship with your neighbours, the new owner does not know them yet. Building a fence may not be in the cards – consider a privacy screen, or a simple wall of hanging plants, you can easily construct yourself – but remember – nothing too high maintenance if you are considering selling.


And finally, if you are creating the outdoor space for you and your family and have no intention of moving, you can do what works for you and your lifestyle. If however, you're creating the space to entice buyers – keep it simple, low maintenance, yet inviting.

Most people cannot visualize what they do not see. They have trouble picturing themselves living in 'your' space. Staging your property before listing it helps create the vision of 'I could live here', the photographs are beautiful enticing buyers long before they get to the property to view it and once there – a staged property will make them feel like they are already home…

---------------

Marilyn Brophy is a Certified Staging Professional® and Certified Colour Consultant® helping Ottawa residents prepare their property for sale for a faster sale and higher selling price.  She works with homeowners looking to sell or dwell providing lifestyles to love, solutions to sell.