Do you dream of turning your bedroom into a sanctuary? A cozy place to look forward to at the end of each day, to relax and wind down in?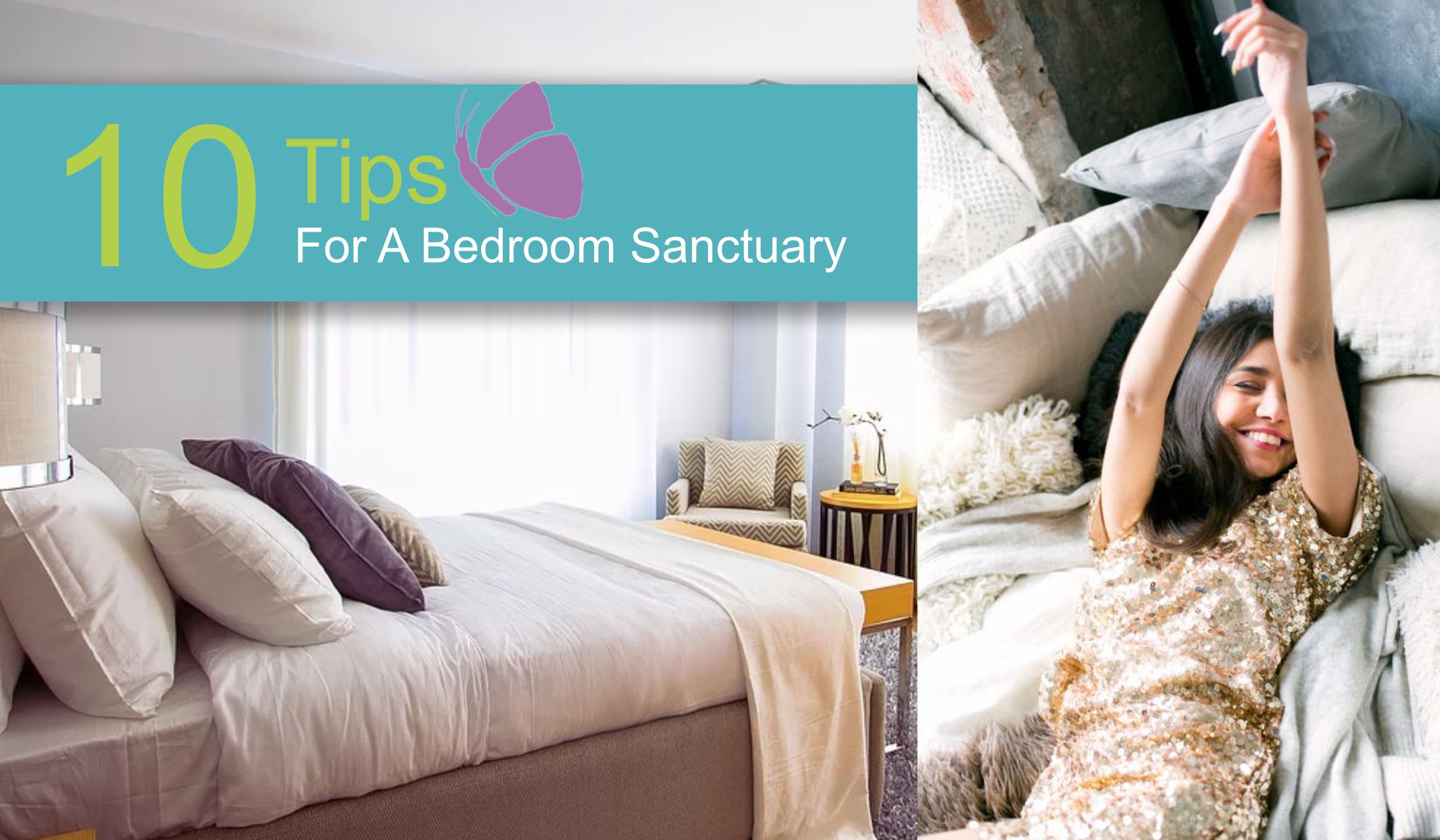 We set out with good intentions but often our bedrooms become a catch-all of accumulated stuff which can feel stressful.

If you're not feeling fully relaxed or are disheartened in your sleep space or ready for a new look, here are 10 tips to create an oasis you'll love spending time in.

It will also set you up very well if you're planning to sell in the future. Master bedrooms are high on the priority list of today's savvy buyers.

1.   A Stylish Headboard
Your bed is the heart of the room and takes up the most space. You want it to pop, look inviting, and comfortable and a good solid headboard provides the support when sitting up, relaxing in bed. Position your bed with as much breathing space around it as possible to give it an airy feel. Invest in a good mattress as well. A good headboard often provides a pretty focal point too. Structube has great headboards at affordable prices. I particularly like this one by Structube.  It's actually a full bed in velvet which is trending for 2020.
2.   Fresh Paint Colours
Surround yourself with colours you love and build a space that's appealing to you. Be brave and get creative. Remember it's your private sanctuary. Choose a colour scheme first using warm versus cool colours. Check out the Sherwin Williams 2020 Forecast and colour palettes here to get some great ideas. I'm particularity fond of the palette called "Mantra".

Spa-like colours are also nice to work with – soft sea-glass, aqua, blues. An accent wall in the darker shade of the rest of your room can be a nice backdrop for your headboard..

Did You Know: Heart & Home Colour offers a colour consultation service, or if you want to lighten it up and have some fun, a Colour Your Home Party. By working with Marilyn Brophy, Certified Colour Consultant™ you are also extended her Sherwin Williams discount for purchasing the paint colours of your dreams.  
3.   Soft carpeting or area rug
It speaks for itself – soft. You want the entire room to look and feel soft, comfy and warm and carpeting adds to that. If you have hardwood in your room, add an area rug at the foot of the bed and place a quarter of it under the bed. An area rug also helps ground the space. Some 2020 area rugs trends are –
Bold, colourful prints
Natural fibres
Animal prints
Layering


4.   Lighting
The right lighting will create the ambiance you're craving and can make the room suitable for how you spend your time – reading, relaxing and more. Your options are unlimited. Take your time and really explore what's available:
A romantic chandelier, to an attractive ceiling fan to stir the air
Wall sconces at your bedside
Build-in task lamps.
Tall, elegant table lamps
Floor lamp for your reading space.

Avoid bright lighting. Choose bedside lamps preferably with dimmers. A tall floor lamp always sets a nice mood. Soft lighting; nothing bright. The trends in design for 2020 are back to nature. These Ratan lamps are great for a master retreat.

5.    Add plush throws and pillows

Throws and pillows are the perfect touch to finish off a room and add warmth and coziness.  They add visual interest and can tie a colour scheme together. They can refresh a room without having to spend too much money simply by changing the pillows or throws. Have fun with choosing them and use a mixture of solids, prints and textures.


6.   Fill your room with fresh plants

We're getting back to nature. Plants have a positive affect on your mood and clean the air.

Some nice and easy to care for plants are:

Chinese Evergreen
Fiddle Leaf Fig
Spider Plant
Orchids   

7.   Window treatments

Luxury window panels with a pop of colour and soft thick material.

8.   A cozy reading nook

A place to snuggle in with a great book -- especially on those long, cold winter nights is welcoming. If reading isn't your thing, consider a sitting area for simply relaxing.

9.   Think big with art

Set the mood for the room with art that enhances tranquility while complementing your taste in décor.

10. Go minimalist

Simple is good. Keeping the room uncluttered and free of daily elements will help set the peace and tranquility you desire, making the master bedroom your chaos-free zone.