Your coffee table is usually quite central to your living room zone or room. In most homes, it is omitted in interior decorating updates, yet its decor could be the living room focal point, creating a range of different first impressions.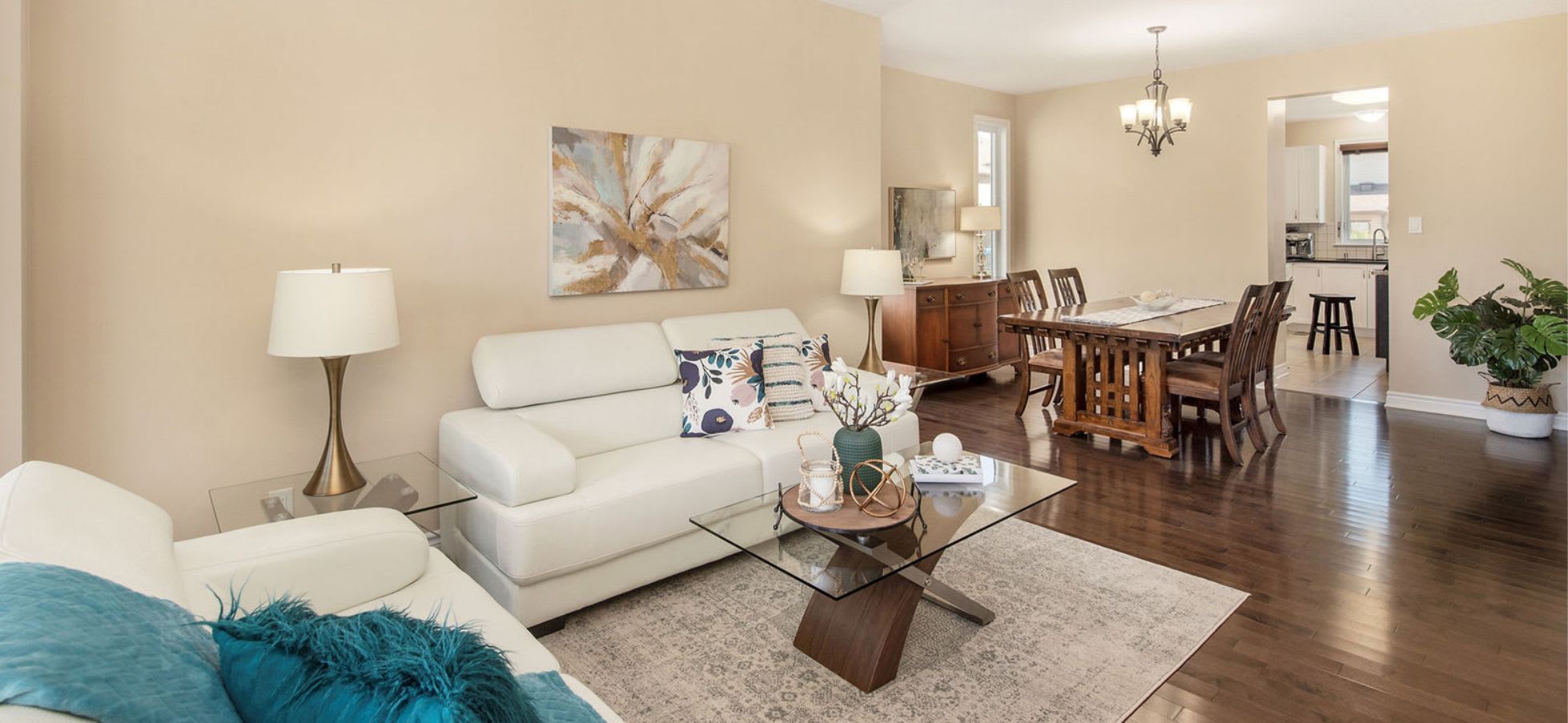 This first impression could be for guests or home buyers. Whether you are in Ottawa, Nepean, or Kanata, here are some interior decorating tips so you can avoid a boring living room first impression, impress your guests or help sell your home.
Coffee Table Decor Tip #1
Naked Is Not For Public 
Not that we are against naturalists, but we are against naked coffee tables. It needs to show that you have put thought into preparing your home for guests or home buyers (home staging).

The decor is an important part of biophilic design, and it contributes towards making you, your family or your visitors feel welcome and comforted.

The style of the room will be the lead, usually, on the way you are going to dress your coffee table. You can also change the styling on a weekly, monthly or seasonal basis. Certainly, festival days or tradition days like Christmas, Halloween, Labour Day, Thanksgiving etc. are good opportunities to spruce up a coffee table decor arrangement that needs to be retired.
Coffee Table Decor Tip #2
Strike With Style
Let your coffee table strike the pose with an eye-catching arrangement. This means using a range of different heights and scale (proportions). The brain likes the eyes to be kept a little bit busy, so it is happy when they have to hop from one height to the next, skinny and chunky etc. A happy brain which means a happy you.

The arrangement does not have to be centrally placed if this is going to impede on functionality.  Putting the display near to a corner furthest away from the high usage area is quite acceptable but try to keep it at least 12cm away from each edge so that it looks placed and not "pushed out the way".

If you have an organic shaped coffee table, then it might be a good idea to place the arrangement in the narrower, less functional area.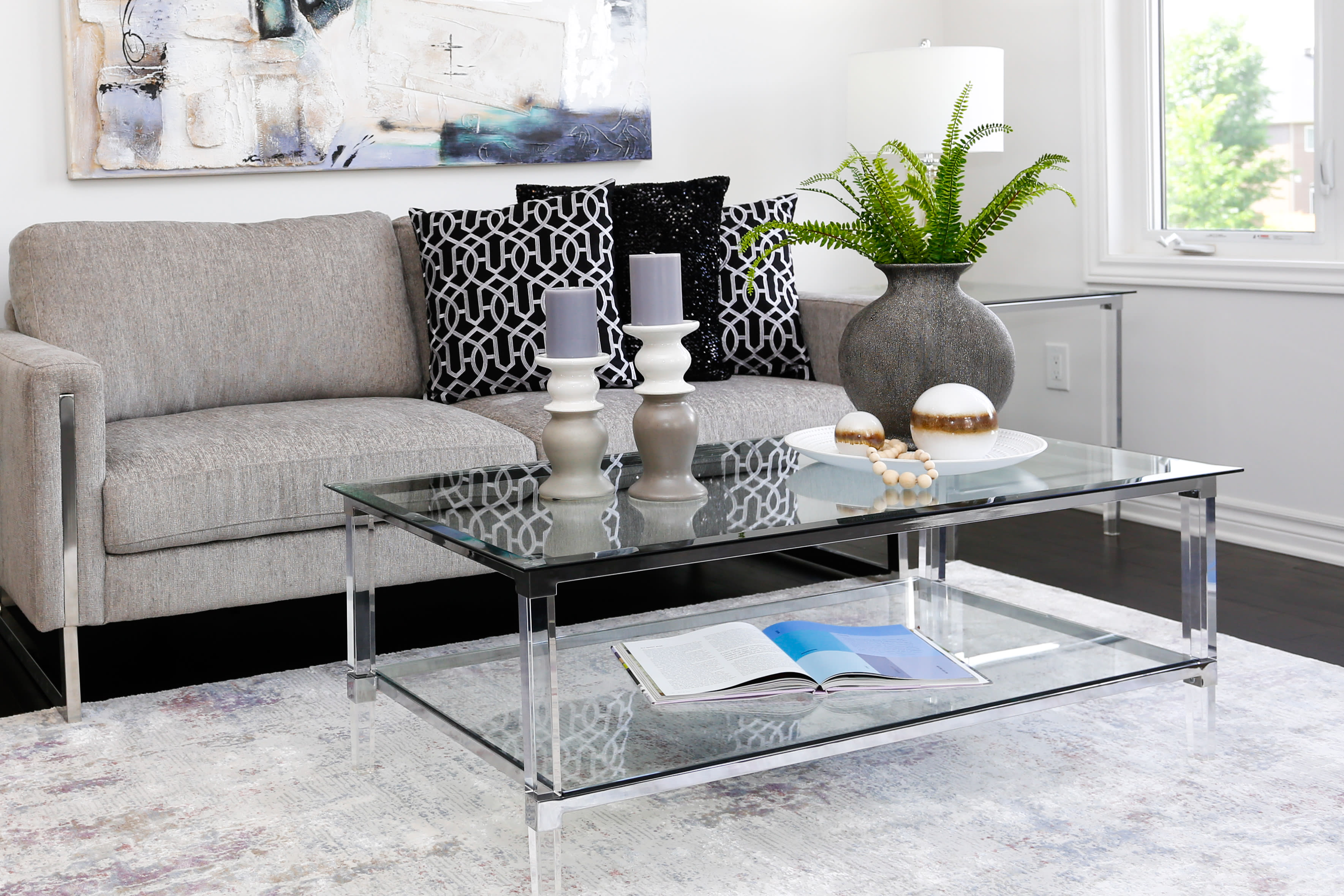 Coffee Table Decor Tip #3
Now Add The Pop
It seems like such an overused phrase: "make it pop", but it really is important.  A pop of colour is different to a splash or a dash of colour.  The colour must literally pop away from the other things it is next to.  Considering complementary colours, which doesn't mean matching it means the colour enhances the other, e.g. red vs green, yellow vs blue etc. or contrast like black vs white or creams vs navy blue. 

Having that pop colour repeat a few times around the room is important for creating a visual relationship, not just on an isolated, unrelated spot of colour. Again, the brain will enjoy the eye roaming around the room, picking up the repeat of that colour. It doesn't have to be whole chairs or whole walls. It can be as simple as greenery, flowers and/or items with the flowers on the coffee table, a painting on one wall, a scatter cushion on a chair and a glass sculpture or lampshade. Radiate the pop colour around the room.

Coffee Table Decor Tip #4
Reign It In
Don't go overboard in your enthusiasm or you will create a cacophony of colour or pattern as well as render the table unusable. Create a vignette of 3 to 5 items, always an odd number because even is "boring".  An odd number creates an asymmetrical presentation, and asymmetry creates tension which for the brain is excitement, visual sugar, so to speak.

You could use, for example, a yellow book (like The Design Of Everyday Things by Don Norman), a 30cm tall vase with Dahlia flowers (3 to 5 flowers) and an objet d'art (a 15cm tall vintage sugar bowl with some yellow in its pattern). This is an interesting collection and will start many conversations or end them because that book is fascinating.

Most importantly - make it personal, make it fun. The objet d'art could be a recent find from a hike, picnic or country trip. It does not have to be a rare find after mad dashes through obscure art collector stores.

In addition, the term "flowers" could be interpreted as eucalyptus foliage, dried flowers, felted flowers, silk flowers or seasonal favourites. Mix it up and make it gorgeous.

Our last passing remark is to be careful what you do choose for the table. It is an exposed area, and putting something that is deeply sentimental, precious or irreplaceable is not advisable.  There are arms, feet, handbags and possibly tails that can swing through at that height.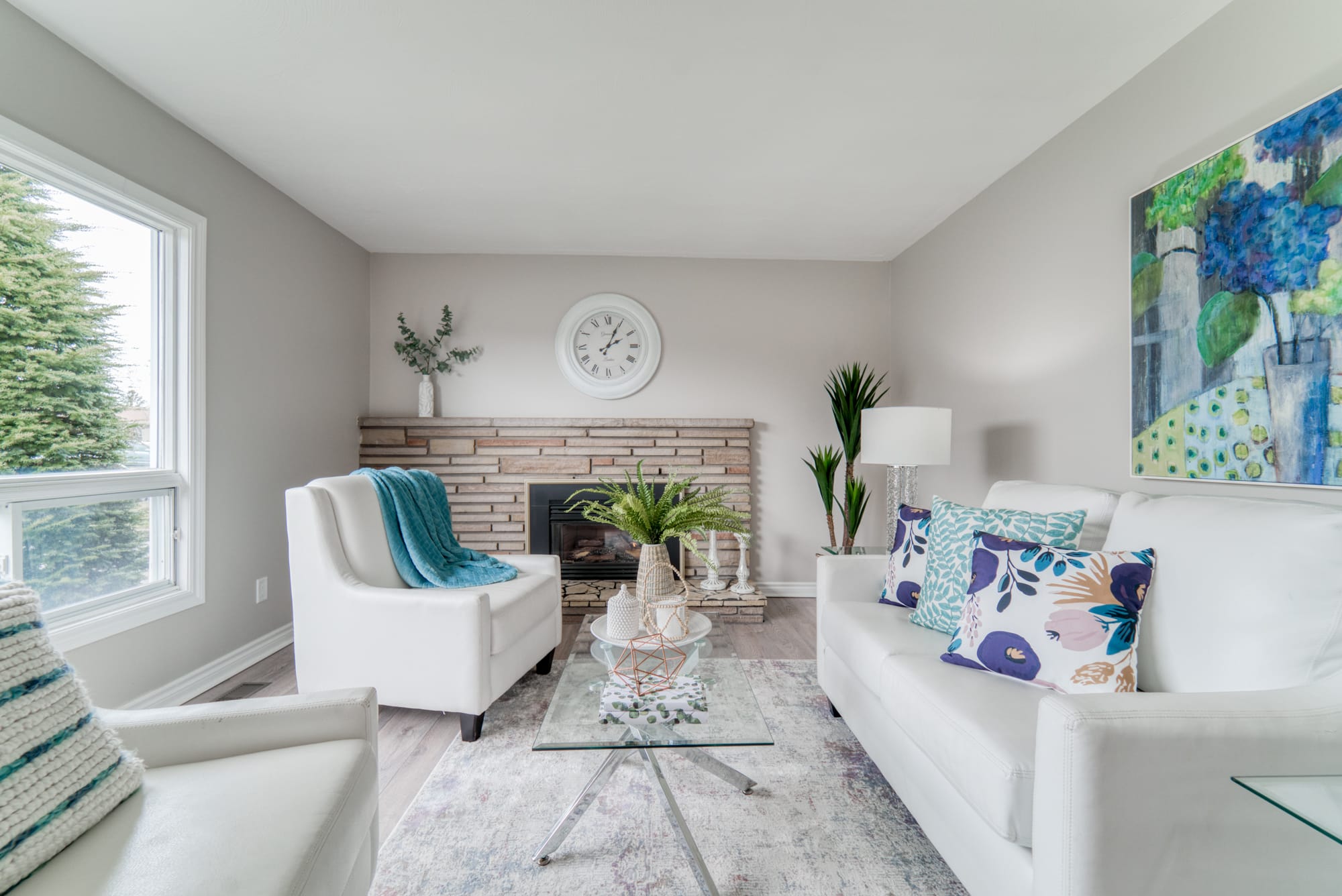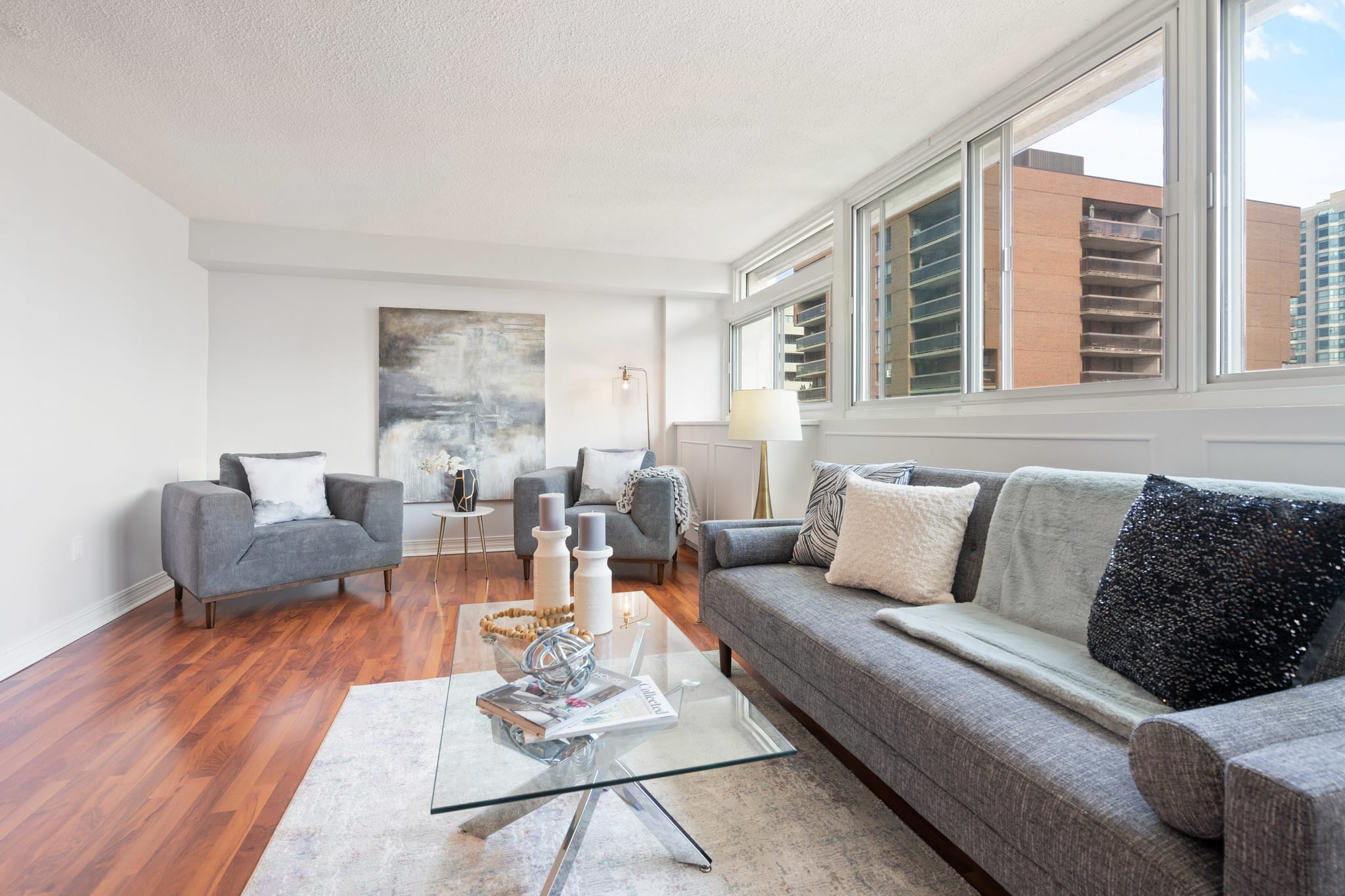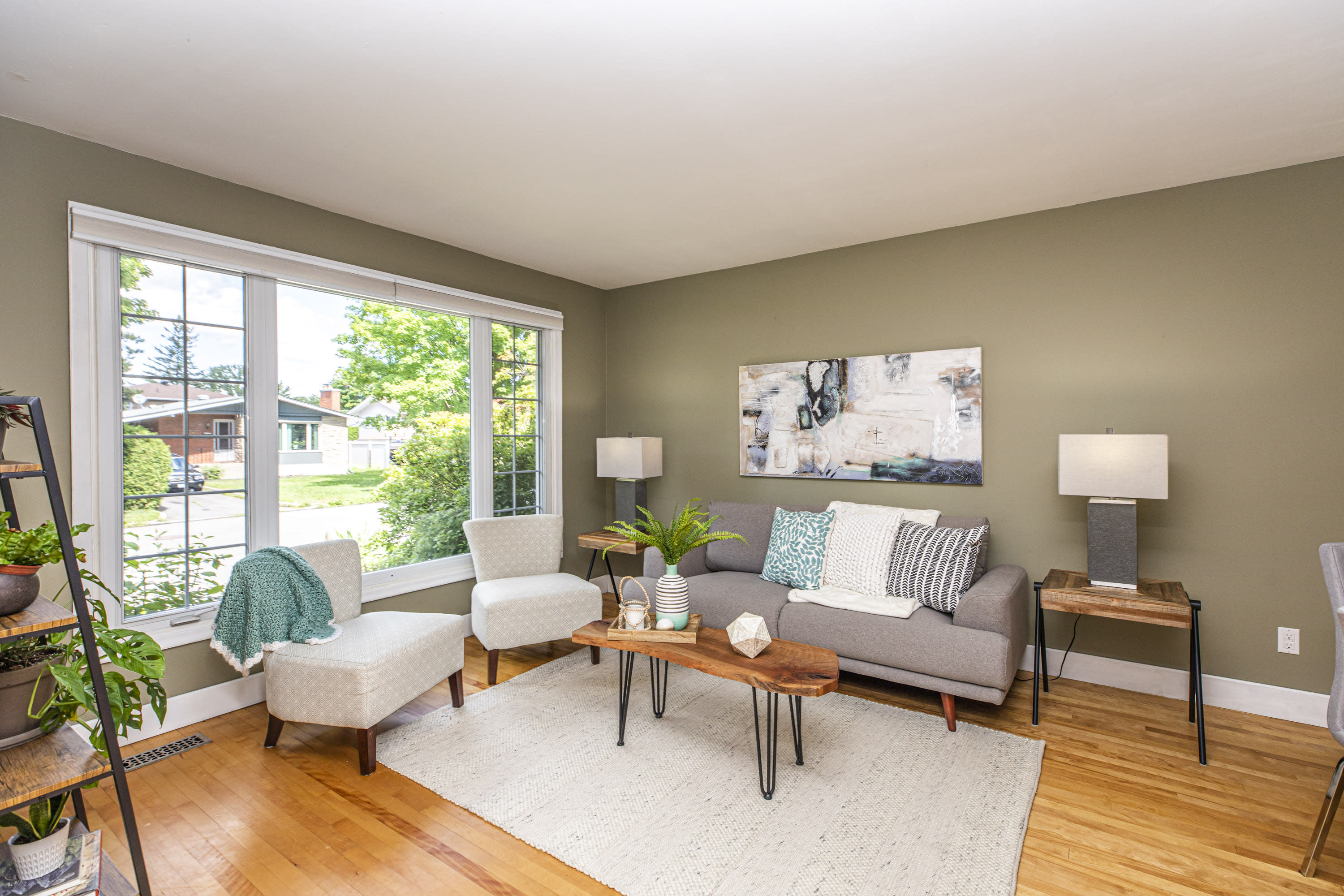 Contact Heart and Home Staging if you would like more tips for making your coffee table decor the best first impression as your living room focal point. We can also give you professional help with interior decorating of your forever home or staging your home before it goes on the market. A staged home sells 2 to 3 times faster than an unstaged home.

We are here to help so contact us. We are passionate about creating an interior that you will adore.